Fort Hill Monument
IN MEMORY OF THE OFFICERS AND MEN OF THE
"KENTUCKY SCOUTS" FRANKFORT BATTALION
FIRST REGIMENT CAPITAL GUARDS
WHO HELPED DEFEND THE CITY OF FRANKFORT
FROM AN ATTACK BY CONFEDERATE FORCES
JUNE 10 - 11, 1864
KY SONS OF VETERANS RESERVE DEDICATED 2005
1st Regiment, Capital Guards
The 1st Capital Guards was a regiment of Kentucky State Troops. According to Speed's The Union Regiments of Kentucky, the Capital Guards Regiment was raised July 11, 1863. It consisted of three battalions - one stationed in the neighborhood of Frankfort, one at or near Paducah, and one in the Sandy Valley.
The Frankfort Battalion protected the Capital from the frequent incursions of guerrilla forces, most notably during the June 1864 attack.

Company A, Frankfort Battalion, 1st Capital Guards, 3rd Military District,
Sons of Veterans Reserve
Company A was formed in January of 2000. At that time, it drew it's membership from across the Department of Kentucky. The company participated in numerous monument dedications, memorial services, Memorial Day activities, parades and educational activities during its first years of existence. Members of the company served as the flag detail during the 2003 National SUVCW Encampment, which was held in Northern Kentucky. The company purchased and dedicated a monument for the Frankfort Battalion which was placed at Fort Hill in Frankfort in 2005. The founding Company Commander, Timothy Downey, was twice awarded the SVR Meritorious Service Medal for forming the company and recruiting new members, then for carrying out the Fort Hill monument project. After the monument dedication, the new commander changed the unit designation of the company. A period of inactivity followed, prompting Keith Karcher, a member of the company from the beginning, to form a new SVR company in Kentucky. This new company began in 2008, with the original designation. It is now carrying on the proud history and tradition of the service of Company A. Membership is currently being drawn from Kentucky Camps #1 ,2 and #5. Members from across the Department are encouraged to join the Sons of Veterans Reserve.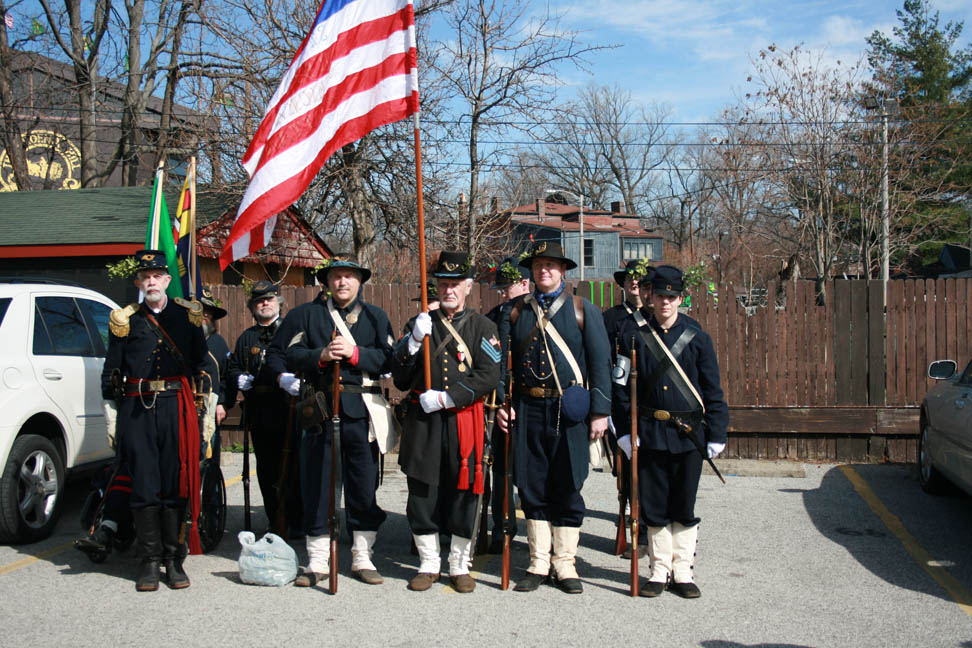 Company A, Frankfort Battalion, 1st Capital Guards, Sons of Veteran Reserves prepare to march with their friends from the 9th Michigan Infantry reenacting unit at the 2011 St. Patrick's Day Parade in Louisville, Ky.

(Photo by Brother Bruce Fortin)
For more information contact Company Commander; Keith Karcher at key4k@aol.com